My mom calls me "Little Chef"! She doesn't often allow me to be in the kitchen, as when I cook I can make a lot of mess…
I don't like the cleaning part so much. BUT I do have some amazing recipes… My speciality is homemade ravioli and I LOVE to bake!
I'm a food lover and l will be sharing some easy recipes with you guys! Here we go!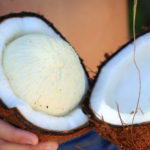 Everyone knows about coconut water and meat... but, even they are very popular in the world, a coconut has another SECRET that is super cool and DELICIOUS!!!!!
Have you heard before from a coconut apple?
Let me tell you a little story about the coconut...
Once there was a tree that produces coconuts, a coconut-tree! The coconuts in the tree were small, but over a few months the coconut will be ready to fall. (In that stage everyone likes to drink the coconut water) But luckily not all coconuts get eaten and people do forget about the coconut on the floor and the coconut gets brown. The next stage of the coconut is to grow a tree, when the tree is a few inches tall the monsterest beast comes and picks it up and grabs a machete...
So when the coconut tree is a few inches tall, the coconut water (Which was in there before) is now sponge! This white spongy material is called the coconut apple. It is delicious to eat, is very sweet and tastes like coconut water! The meat inside turned into oil, which many of us use for cooking!
Tips
* If you want to use coconut oil you should process it first...(that's the best way)
* When the tree is a foot tall the sponge isn't good to eat anymore...
* When the tree is about one centimeter, the coconut apple is good to eat, but there may be still some coconut-water in there…
* Another way to eat coconut is to grill it on an open fire, and sprinkle it with sugar and cinnamon.
* And enjoy!!!
Coconut fact...
Did you know a coconut tree can produce around 75 or more coconuts per year?
( that's a lot of coconut sponge! )
*** Pictures are taken by Olivera Rusu and Louke van Noord***
Read More...
---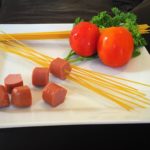 I know what you are thinking right now... Eeeew, Octopus, when you think it is a weird looking animal!
I know a way to make it taste delicious and it is so easy to make!
When it's family night and everyone is having octopus and you are the only one who doesn't like it, ask your mom to make it this way... It is SO much better!
What you need to know about how to cook KIDS OCTOPUS!
It is extremely easy to make and De-Lici-Ous... So I will stop talking now and go straight into the recipe.
1. Get a sausage ( any type, my favorite are the hotdog ones ) and cut it into 1 inch pieces.
2. Next get spaghetti ( not cooked! ) and stick them into the sausage, like you see in the pictures.
3. Now boil them in salted water until the pasta is al dente… serve it with a delicious marinara sauce...
4. And Enjoy!
Read More...
---