Hey everyone! So the other day it was my birthday and my Teacher (Teacher Marissa), surprised me with a field trip to Marco Gonzalez. It is a Maya Site not a Maya temple. I am telling this because most people asked me "Louke, how high did you have to climb?" (you can climb Maya Temples) or "How tall was the temple?" etc… So anyway, I'm going to take you on the adventure I went on, by telling you the highlights of the excursion.
To start off with we went on a golf cart (on our island, we use golf carts, not cars) and it took an hour to get there. I was with my friends Xavi and Nicholas. Nicholas' dad was so generous to give us a ride.
ONE HOUR LATER
When we arrived at Marco Gonzalez we went into a building called "the lab". Inside there, the people that work there set up a table with artifacts they found at the site and explained to us what the Maya used them for. I took some pictures and will explain to you what they are.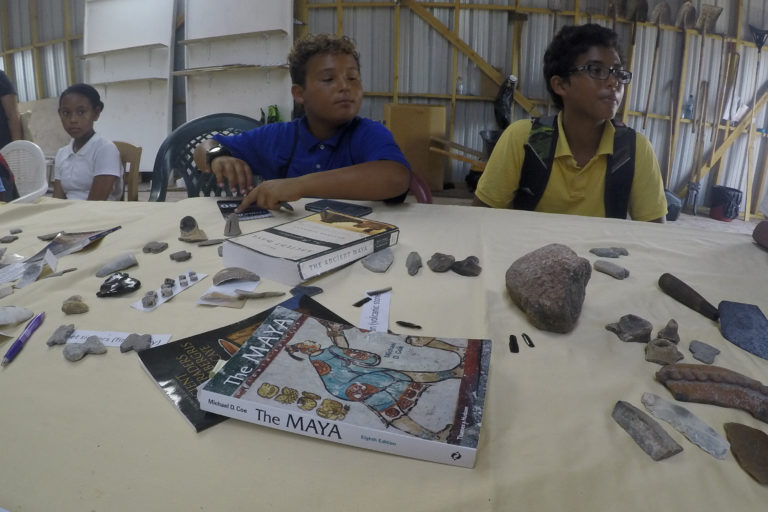 FUN FACT
The Maya harvested clams and they ate the meat. Then they cut rectangular or round holes in the shell and used them as a belt buckle or decoration.
STARTING OUR ADVENTURE
So we were going to the site on a rickety bridge and I was teasing my Teacher by asking her "what if a croc would get us?" Anyway… Apparently the mangroves collect salt and keep it on their leaves. The tour guide told us to taste it and we ate salt!!! My partner (for the scavenger hunt) and I made the most ridiculous face because we didn't expect it to be so salty….
Once we arrived at the Maya site we scavenged for items… We found teeth, bones, pottery, and other stuff the Maya left behind.
We went to all the structures and the rocks that the Maya put in the ground are the foundations for their houses. Of course, the houses are all now weathered away (meaning they have disappeared because the harsh weather in our climate). The rocks remain as markings to the archeologists, indicating that there used to be structures there.
On the Maya Site there were dumps for material. What I mean is that the Maya gathered shells in a pile and when they were building and needed shells, they would take them from the pile. They are more like storage places and there are piles of conch shells that are more than 10 feet high, I'm not kidding! I would show you the pictures for proof but my GoPro died half way through. RIP GoPro…
STORY TIME!!!
People are NOT allowed to pick up shells or climb the piles. So they told us that one time, this kid picked up a giant conch shell and there was a giant spider in it and the kid was freaked out… Told you so, don't touch them!!!
Ok I'm not going to tell any more because I challenge you to go and visit the Marco Gonzalez Maya site.
Thank you!!!
-My class
-My teacher
-And the crew of Marco Gonzalez