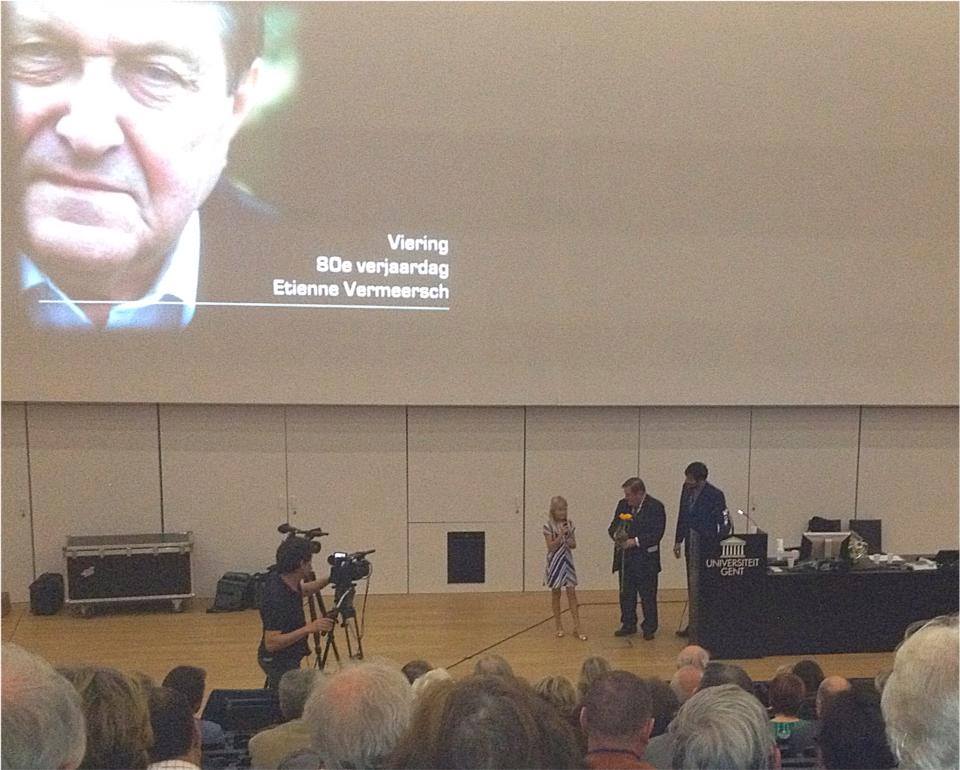 May 2nd 2014, it was the 80th birthday celebration of Etienne Vermeersch at the Auditorium of Ghent. Etienne is one of the most influential Philosophers of Belgium.
Because I had met Etienne two years before his birthday, and had such a good time, talking about life and so much more, I was invited to fly over to Belgium to be part of the event.
A thousand friends, press and media were present at the University of Ghent.
Topics of the evening included: ethics, religion, media, music, skepticism, friendship & beauty.
Guest speakers of the evening: Tom Schoepen, Jean Paul Van Bendegem, Gili, Mieke Van Hecke, Johan Braeckman, Lynn Wesenbeek, Kathleen Cools, Dirk Verhofstadt, Jacinta De Roeck, Tom Blades, Peter Schmidt – and as a surprise ME!
My grandparents Bompa and Bonneke also came to support me, and because Etienne could not see me, until the moment, I was hiding together with my mom in the auditorium. My school "The Island Academy" had given me permission to attend the event, because I showed my teacher and principal the video I made with Etienne. They gave me a lot of homework to do, during the days I was there.
A few days before the event, my mom, auntie and I already went to the University, to practice my story and to see how everything looked like.
Before I walked to the front, Tom Schoepen (he is my best friend) talked about Belize (what an amazing exposure for Belize), and Tom also talked about me, living on a little Island called Ambergris Caye.
I walked all by myself in the auditorium Leon De Meyer, in front of a 1000 guests to the stage, I was very nervous… to wish Etienne a happy birthday. I handed Etienne a beautiful sunflower and told the entire story again in English. Everybody loved the story and I got a huge applause.
Etienne was also so surprised and happy and to see me, as I came all the way from Belize! He never thought I was going to be there.
In 2012 I had the opportunity to meet with Professor Etienne Vermeersch, who is a well known Belgian Philosopher and Professor at the University of Ghent.
I talked with Etienne about life, Belize & Belgium and he also told me a great story Van Tippen. The purpose of this interview was to learn about a story of a little boy called "Van Tippen". The story goes about a boy who doesn't want to go home, as he wants to get "carried" by his mom to go home, so his mom tries to convince her son in such cute different ways to walk home.
Below you see the video ( make sure you see the part by 4:12) – you will love it!
This was one of my biggest adventures ever.